PHILOSOPHY
At Ascension Lutheran Preschool, we are passionate about providing a loving Christian, developmental atmosphere where children recognize themselves as unique individuals created and loved by God. As a child-centered school, we believe that the process is as important as the product. Children work hard at play—through questioning, sharing, speaking, listening, dancing, singing, discoveries, experiments, and hands-on activities. Our children learn at their own pace, through play that is geared toward their developmental stage.
Our policies are rooted in the Gospel of Jesus Christ. Teachers uphold the understanding of and belief in the importance of Law (consequence for misbehavior) and Gospel (forgiveness for the repentant). This helps the children develop healthy relationships and patterns of adjustment—learning and growing in a warm, loving, responsive environment with experienced early childhood educators who provide attentive, nurturing, individualized, quality care.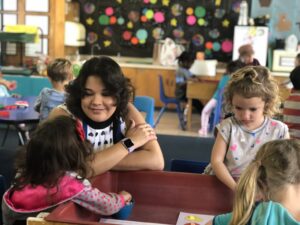 CURRICULUM
"Learning through play" is academic in a developmental way. We agree with the time-tested, well-documented, prevailing research that identifies complex, active play as the key ingredient in early childhood education as well as the necessary foundation for future success in school.
Our curriculum is designed to foster students' healthy development and build the foundation for successful learning. We use the "One in Christ" early childhood curriculum from Concordia Publishing House. Additionally, we use the Zaner-Bloser Handwriting curriculum in our pre-K classroom.