Donate
You may donate online with the form to the right. Follow the simple steps through making an account to donate. We use a secure system from Halopays and ShareFaith Giving that encrypts all information before transmission.
All donations are tax deductible. Checks can be made payable to "Ascension Lutheran Church and School."
Scroll down for other ways to support this ministry.
Each one must give as he has decided in his heart, not reluctantly or under compulsion
,
for God loves a cheerful giver. – 2 Corinthians 9:7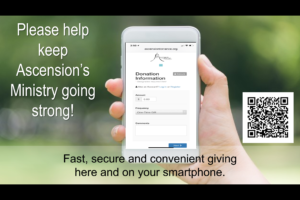 Support Ascension Lutheran Church and School with your financial gifts.
Ascension Lutheran Church and School is unique in that we minister to a portion of the population that is largely unchurched. The days of schooling just the children of the congregation are long over. The reason that people decide to place their children in our school is often because they wish to avoid the local public schools; and they often choose us over other private institutions because of our lower cost.
Regardless of the reasons, unchurched and often non-Christians are choosing to place their children in our school that preaches "Christ Crucified" every day of the school year. We start each day with prayer. We have chapel service once a week. We have religion class every day. We actively pray for and with our students. The seed is being planted! If you have been blessed with the ability to help us finance this ministry, we welcome any support you can give.
Support Ascension Lutheran Church and School with your participation.
Scrip cards can be used to make purchases at grocery stores, gas stations, restaurants, hardware stores. They also make great gifts for birthdays, anniversaries, graduations and Christmas. You may purchase Scrip cards at the school office or during the fellowship time between services on Sunday morning.
Dinner Night Out is a monthly opportunity to go out for dinner with your family and to support our ministry. By patronizing the restaurant of the month and presenting the flyer supplied in your church bulletin orTuesday Telegram, you can help support our ministry.
By clipping box tops from participating products such as Betty Crocker cakes mixes, General Mills cereal, Pillsbury refrigerated biscuits and dough, Hamburger Helper, Ziploc products, Kleenex tissues, Scott tissues, toilet paper, paper towels, you can support our ministry.
Support Ascension Lutheran Church and School with your prayers.
Please pray for our pastor, congregation, principal, teachers, staff, and students. Join us in our mission to love God, love others and bring people into His Kingdom.