Sunday Morning Services
Traditional
8:30 am
Contemporary
10:30 am
Welcome to Ascension
Loving God, Loving Others,
Bringing People In.
We are a church that is committed to growing in our love for God, our love for others, and fulfilling Jesus' commission to bring others into His Kingdom!

Please accept our invitation to attend one of our two Sunday services.
Traditional Services celebrate God's gifts of Word and Sacrament through the historical Lutheran liturgy along with rich, classic hymns.
The Contemporary Service is a relaxed service centered around the Word of God and filled with joyous songs of God's love and mercy shown us through Jesus Christ.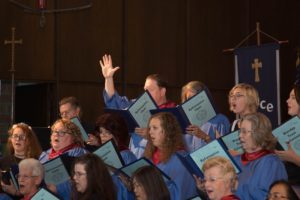 Loving God
We love God only because He first loved us and has given us a new heart in order to love Him in return. We preach the truth of the life, death, and resurrection of Jesus Christ so that people may believe in the God who loves us all so desperately. It is when we know that we are loved, that we are free to love Him back!
Loving Others
Loving others is the evidence that God has worked a change in us. We cannot say that we love God and then not love others. At Ascension, we seek to offer fellowship and ministry opportunities to to learn to love one another as Christ has commanded and empowered us to do.
Bringing People In
Christ commissioned His first disciples to go and bring others into His Kingdom by baptizing them and teaching them about the love of God. As His image-bearers here on Earth, we continue their work by reaching out to others and sharing the hope that is in Christ Jesus!
"Christ the King!"
Visit our YouTube channel, where you can view all previous sermon videos: