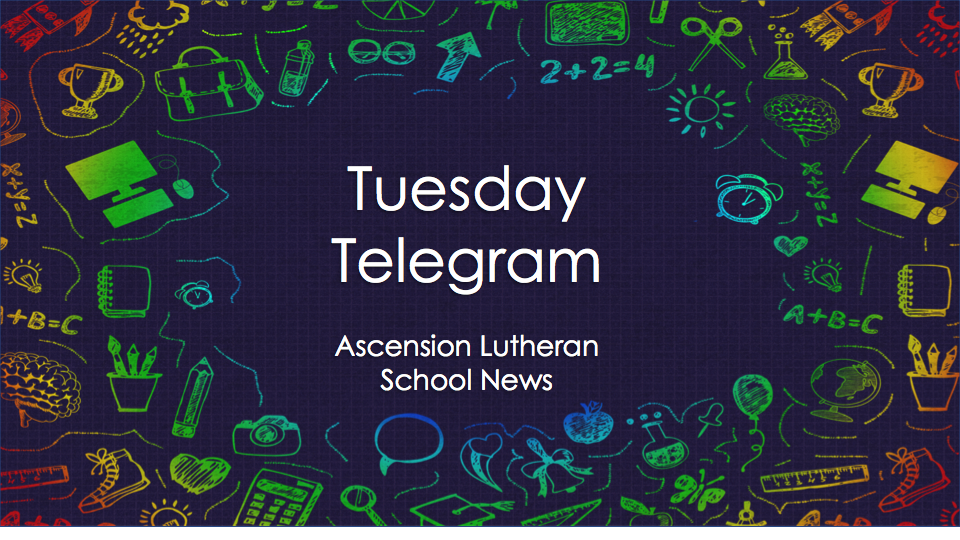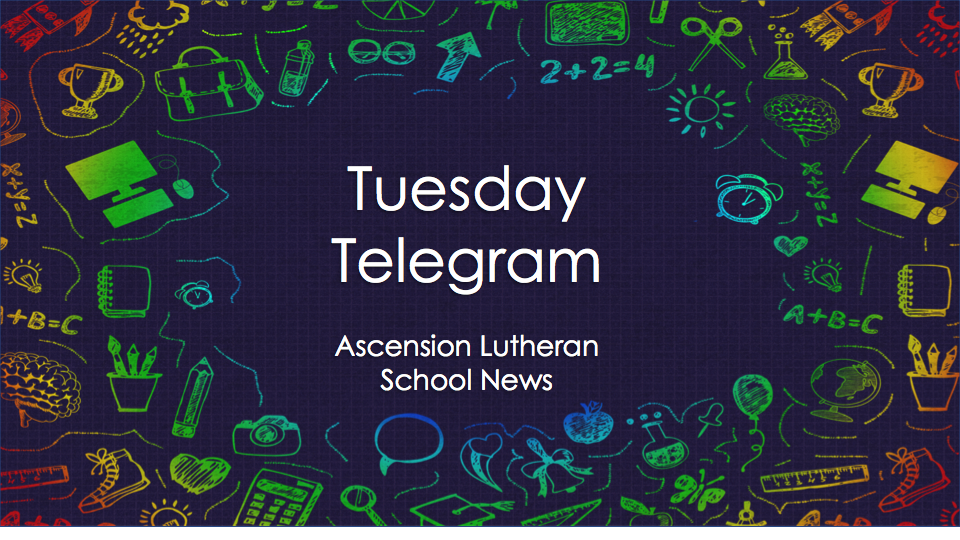 LOOKING AHEAD
April 3-Soup supper – 5:30 PM Lent service -7:00 PM 4-Sees Candy delivered to classrooms 5-Talent Show Spirit Day~Wacky Tacky Curriculum development day Noon dismissal/SAC open 8-Easter Lily order forms due 10-Jog-A-Thon money due Soup supper – 5:30 PM Lent service -7:00 PM 12-Peter Pan 15-Holy Week begins 16-Seder Dinner – 6:00 PM 17-Pick up Easter Lily orders Dinner Night Out Luna Grill 18-Maundy Thursday Noon dismissal/SAC open 19-Good Friday-No School/No SAC 21-Easter services 8:15 & 11:00 AM 22 through 26-Easter break~no school~SAC open 29-School resumes – chapel 8:30 AM
Set your alarm for daily prayer time @ 8:00 pm to pray specifically for the health of Ascension Lutheran School, Ascension Lutheran Preschool and Ascension Lutheran Church.
ART SHOW RESULTS
Congratulations to all of the students who turned in art work for the Torrance Women's Club Art Show. The first place art work will be sent to the State Art Show. Thank you to everyone who entered
Notice
SAC will be open for Spring Break. Sign up as soon as possible! Forms are in the SAC room.
Ascension Lutheran School 2019 Talent Show
Friday, APRIL 5TH @ 11:00AM All are invited to attend!
EASTER LILY FUND RAISER
The 8th grade class is holding a fund raiser for the Washington D.C. trip. See the attached order form!
SCRIP CONTEST
THANK YOU FOR YOUR SUPPORT! Congratulations to the following families for supporting the school with their Scrip purchases. They each earned $25 or more towards their tuition. Diecedue x 3
Itow x 2 Garbisch x 2
Parenteau Reeves
The following students have earned a pass for every $300 of scrip purchased through March 31st . Diecedue earned 9 passes Garbisch earned 13 passes Itow earned 9 passes Rouillard earned 1 pass
Remember: The next contest runs through May 17th . For every $300 of scrip purchased your child will earn a free dress pass. Purchasing scrip automatically enrolls you in the Family Scrip Club where you can earn money towards tuition. Contact the school office to find out more information.
The next contest ends on May 1st, so keep collecting your BOX TOPS! Please remember, we no longer accept Campbell's Soup labels!
Reminder: All students should have turned in their report card acknowledgement form signed by a parent.
Thank you to all of the volunteers that helped at the Jog A Thon! The winner of our parent volunteer drawing was Javier Moreno!
ATTENTION!!
PLAY PRACTICE CANCELED THIS WEEK ON APRIL 2ND AND 4TH DUE TO THE TALENT SHOW REHEARSALS.
Mother/ Son Game Truck Night & Daddy Daughter Dance Both events will be held on Saturday, May 11th 5:30-9:00
Volunteers are needed for BOTH EVENTS!
Please call the school office if you are able to help! Let's make these events a night to remember for our children! See flyers attached to today's telegram!
April Dinner Night Out LUNA GRILL
21540 Hawthorne Blvd. Building 413 Del Amo Mall (inside mall across from Barnes and Noble Bookstore) April 17th 11:00AM-9:00PM 20% of all proceeds will benefit Ascension Lutheran School Please bring attached flyer, or just show on your phone!
PETER PAN THE MUSICAL
On Friday, April 12th @11:00AM, the school will be taking a field trip to the play Peter Pan at the Armstrong Theatre in Torrance. We will be taking a bus from the school. Please fill out the permission slip your child brought home, and return it by Friday, April 5th with a payment of $15.00 made out to ALS. We will be eating lunch before we leave.
Passover Seder Dinner
Experience the Passover as Jesus did with His First Disciples Tuesday, April 16th at 6:00pm. Cost is $12.00 per person Ascension Lutheran Church invites you to join us for the 9th annual Passover Seder meal. Reservations are required. Please call the church office @ (310)793-0071.
NEW! Follow us on Instagram! Like, Share, Post and tag a friend! Ascensionlutheran_school AND Like us on Facebook! Share our school with your family and friends!
---