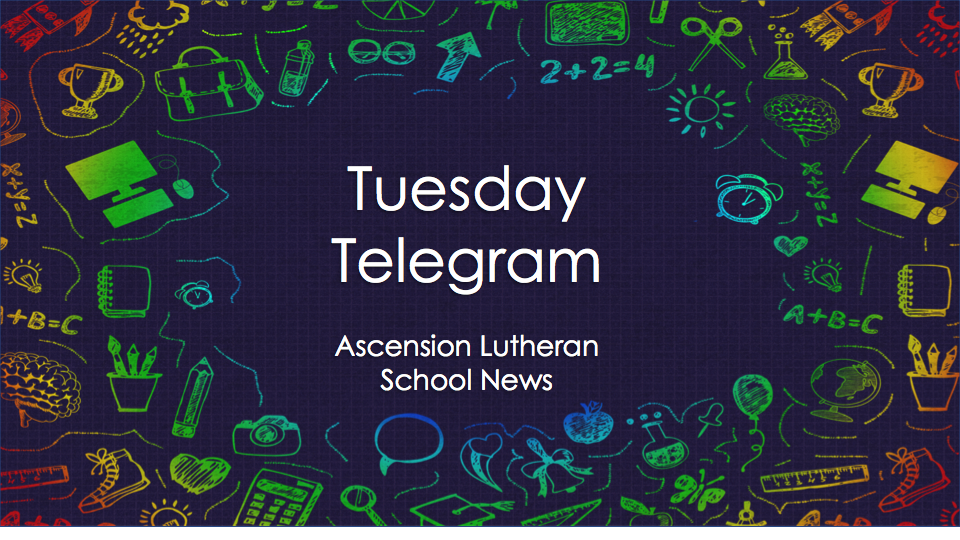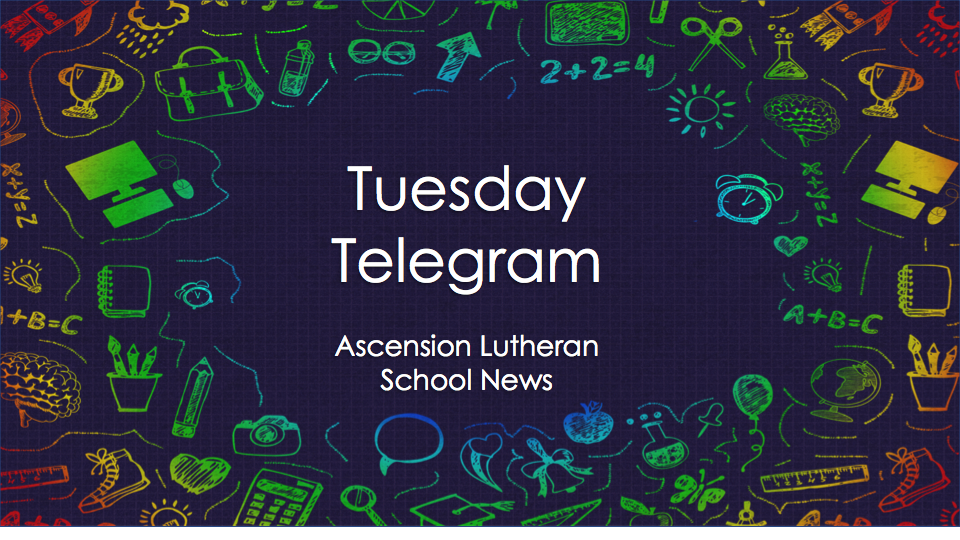 LOOKING AHEAD
March 19-Dinner Night Out Souplantation 12pm-9pm 20-Soup supper – 5:30 PM Lent service -7:00 PM 22-See's money due Permanent Impressions 27-Graduation picture day Soup supper – 5:30 PM Lent service -7:00 PM 29-Trike/Jog-A-Thon 8:30 AM-FULL DAY
April 1-Mrs. Brege's birthday 3-Soup supper – 5:30 PM Lent service -7:00 PM 4-Sees Candy delivered to classrooms 5-Talent Show Spirit Day Curriculum development day Noon dismissal/SAC open 10-Jog-A-Thon money due Soup supper – 5:30 PM Lent service -7:00 PM 15-Holy Week begins 16-Seder Dinner – 6:00 PM 18-Maundy Thursday Noon dismissal/SAC open 19-Good Friday-No School/No SAC 21-Easter services 8:15 & 11:00 AM 22 through 26-Easter break~no school~SAC open 29-School resumes – chapel 8:30 AM
Set your alarm for daily prayer time @ 8:00 pm to pray specifically for the health of Ascension Lutheran School, Ascension Lutheran Preschool and Ascension Lutheran Church.
Sees Candy Fundraiser order forms are due by THIS FRIDAY, MARCH 22nd! Candy will be delivered to the classes on April 4th. Funds will be used to purchase inflatables for the school picnic!
Dinner Night Out
Souplantation TONIGHT Tuesday, March 19⋅12:00 – 9:00pm
21309 Hawthorne Blvd, Torrance, CA 90503
You can show them the flyer, or you can just show it on your phone!!
All proceeds go to paying for our Hands On Art Supplies. Bring the flyer attached to the telegram, or just show on your phone! Support Ascension Lutheran School by participating in our Warrior Run!
Our annual Jog/Trike-A-Thon
Friday, March 29th! Come dressed to run/pedal in your camouflage! Warrior Run funds will be used to SUPPORT school wide programs. This is a full school day!
SCRIP CONTEST
For every $300 of scrip purchased your child can earn one free dress day through March 31st. Every scrip purchase automatically enrolls you in the Family Scrip Club where you can earn money towards tuition. Contact the school office to find out more information.
Box Tops
The next contest ends on May 1st so keep collecting your BOX TOPS! Please remember, we no longer accept Campbell's Soup labels!
Permanent Impressions
Permanent Impressions will be on campus this Friday, March 22nd doing fingerprinting. Please fill out the form that was sent home with your child if you're interested in purchasing a package.
Watch Me Draw/Watch Me Sculpt
Classes begin this week! It's not too late to sign up! Please see the registration forms attached electronically to this telegram.
Bricks 4 Kids
Classes began last week, but it's not too late to enroll! Please see the registration form attached electronically to this telegram! School Picture Day Wednesday, March 27th Eighth grade students will be taking their cap and gown photos, and new students will be taking their make-up pictures.
Talent Show
FRIDAY, APRIL 5TH @ 11:00AM The Talent Show Permission Slip went home with your child, please be sure to read, complete, and turn it in by tomorrow, March 20th if your child would like to share his/her talent. Extra permission slips are available in the school office.
South Bay Hands On Art
Bringing Art Together Since the 80's! DUST OFF YOUR LEG WARMERS TEASE UP YOUR HAIR WE'RE HAVING A PARTY BE THERE OR BE SQUARE When: Saturday, March 30 6-10pm Where: St. James O'Gorman Center 4625 Garnet Street, Torrance What: Dinner, Dancing, Art, Silent Auction & Opportunity Drawing Tickets: $25 in advance/$30 at the door Project: Put an 80's spin on a serving tray Get your tickets online today at www.southbayhandsonart.com Prizes for best costume & best group costume!
Passover Seder Dinner
Experience the Passover as Jesus did with His First Disciples Tuesday, April 16th at 6:00pm. Cost is $12.00 per person Ascension Lutheran Church invites you to join us for the 9th annual Passover Seder meal., and reservations are required. Please call the church office @ (310)793-0071.
NEW! Follow us on Instagram!
Like, Share, Post and tag a friend! Ascensionlutheran_school AND Like us on Facebook! Share our school with your family and friends!
---