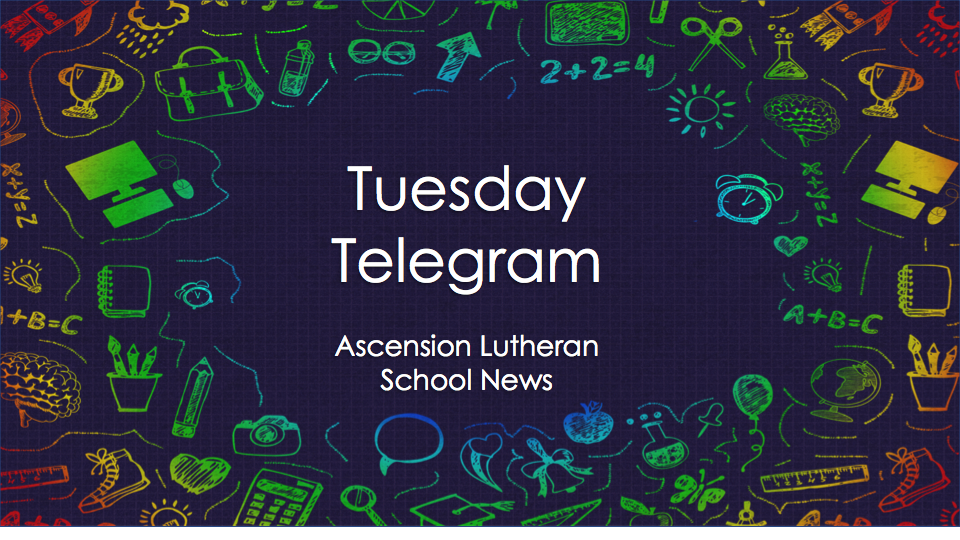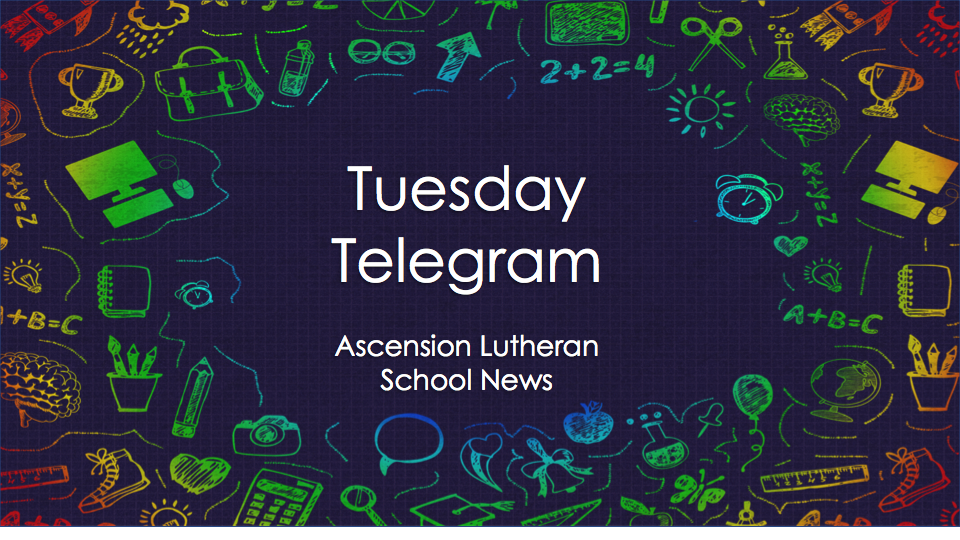 LOOKING AHEAD
February 14-Valentine's Day 100th Day of School 15-Yankee Candle orders/money due 18-President's Day Observed-No school/No SAC 19-Pastor Abram's birthday 20-McDonald's-8 th grade fund raiser 22-MathCounts competition March 1-Spirit Day Nerd/Science Noon dismissal/Teacher Inservice 6-Ash Wednesday/Buddy chapel Soup supper @ 5:30 PM Lent service @7:00 PM 7-Science Fair 12-See's fund raising orders/money due 13- Soup supper @ 5:30 PM Lent service @7:00 PM 15-Chancy & Bruce screening 9:00 AM 16-Pancake Breakfast
Spelling Bee!
Thank you to the following students for representing our school in the Spelling Bee! Keegan Foster Jordin John Sasha Harbison Jeremy Robles Laila Gouche Marlon Reynolds Abigail Childers Sielo Cabrera Jacob Munoz Albert Park
Congratulations to Marlon Reynolds for coming in second place!
REMINDER!
NO School/NO SAC on Monday, February 18th in honor of President's Day!
Wishing all of our families a Happy Valentines Day!
Thursday, February 14th is the 100th day of school! To celebrate, students are asked to dress up how they think they will look when they are 100 years old. Have fun!
Spring Fundraisers
Yankee Candle and Sees Candy packets went home last week. These fundraisers are voluntary. The funds earned go to pay for the inflatable apparatus for the end of school year picnic. Yankee Candle orders are due this Friday, February 15th, and Sees Candy orders are due by March 22nd.
YANKEE CANDLE
Did you read the letter that was in with the Yankee Candle order form? You can sell online to family and friends! Order forms are due in the school office this Friday, February 15th, but you can sell online until JULY 10TH!!!
McDONALD'S FUNDRAISER
Washington D.C.
Help the 8th grade class earn money for their Washington D.C. trip. The fund raiser will be on Wednesday, February 20th at the McDonald's on 182nd and Crenshaw from 5-8pm. Bring your spare change to buy fresh baked cookies! Mark your calendars!
REGISTRATION FOR THE 2019-2020 SCHOOL YEAR
The re-enrollment forms for 2019-2020 school will be sent home soon!
BOXTOPS FOR EDUCATION CONTEST
Please turn in your Boxtops For Education labels by Tuesday, February 19th. The class with the highest percentage brought in will earn a free dress day!
CHANCY AND BRUCE 2019-2020 KINDERGARTEN SCREENING
March 15th 9:00AM to 11:30AM Parents of students who will be 5 by September 1st and would like to enroll their child in next year's kindergarten class should contact the school office to schedule a testing time.
Ascension Boys' Basketball Schedule
Practices are 3:30 to 4:30 Games begin at 3:30 2/12/19 vs. First Lutheran AWAY 2/14/19 Practice HOME 2/19/19 vs. Pacific Lutheran AWAY 2/21/19 Practice HOME 2/26/18 Tournament TBD 2/28/19 Tournament TBD
SCRIP NEWS!
SCRIP CONTEST A new contest has begun! For every $300 of scrip purchased your child can earn one free dress day through March 31st. Every scrip purchase automatically enrolls you in the Family Scrip Club where you can earn money towards tuition. Contact the school office to find out more information.
Women's Club of Torrance Student Art Contest
Are you a good artist? Do you like to paint or draw? The Women's Club of Torrance is hosting their annual art contest for students Kindergarten through 8th grade. If you are interested in submitting a piece to the art competition, here is what you do.
1. Make your creation:
1) must be 24"x30" or smaller
2) may not contain glass
3) must be original
4) must be created in 2018-2019 5) submission must include an entry form label affixed to the back and a signed waiver 6) One entry per person
2. Pick up an entry form from the school office and have your parents complete and sign it.
3. Bring your artwork along with the completed, signed entry form to Mrs. Hopkins or the school office by Friday, March 1st . Top place finishers in the Torrance district will advance to a state competition level automatically. There are also prizes that will be awarded to top place finishers.
No limits to the art medium that you use, oils, watercolors, pencil etc. are all acceptable. Any questions please email Mrs. Hopkins at: kdg@ascensiontorrance.org
---