Extracurricular Activities
Ascension Lutheran offers a variety of extracurricular activities and clubs: MathCounts, Homework Club, After-school sports, Spelling Bee, Science Fair, Speech Meet, and HandBells. We also offer Watch Me Draw, Watch Me Sculpt, Chessman and Friends, and other after-school programs where teachers come to the campus and teach the students for an additional fee paid directly to that company.
Ministries & Community Service
Service to God and neighbor are essential components of life at Ascension Lutheran in Torrance. Our school has several mission projects and ministry partners: New Life Centre in Uganda, The Dakota Boys Ranch, The Heifer Project as well as Lutheran Social Services.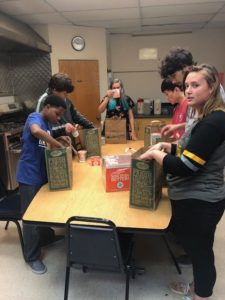 Chapel
All students participate in regular morning devotions in the classroom and in weekly chapel services. Parents and families are also invited to the chapel services, which are generally held on Wednesday mornings. Money donated by the students through their chapel offering envelopes is designated for specific mission projects.
Athletics
Students in Grades 5-8 may participate in after-school sports. Ascension Lutheran competes in the South Bay Athletic League. Boys' and girls' teams participate in soccer, basketball, volleyball. Practices and games are usually held after school on Tuesdays and Thursdays.


Dress Code
Ascension Lutheran has a standard for school dress and personal appearance. Adherence to the Dress Code is required.
Outdoor Education Trips
Grades 4 through 8 go on overnight outdoor education trips during the school year.
The classroom field trips are:
Grade 4 spends one night at San Juan Capistrano
Grade 5 goes to Astro Camp for two nights
Grade 6 goes to Alpine Conference Center for a week
Grade 7 goes to Campus by the Sea in Catalina for a week
Grade 8 goes to Washington D.C. for a week