Countdown to Kindergarten
This is an exciting time in the life of your family—you are preparing to "step up" to kindergarten. We know you want to do everything you can to ensure your child's well-being and success in school. And at Ascension Lutheran School, we do too!
We are proud to offer an outstanding education in a small class size (average 15 students). With many local public kindergarten classes exceeding 30 students next school year, our classrooms provide a more personalized, attentive environment.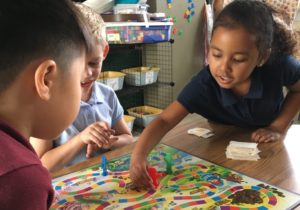 Gearing Up For Kindergarten Information:
Kindergarten Gear Up Night:

Usually held in the evening in February..TBA



Chancy and Bruce Educational Resources, Inc. Kindergarten Assessment Day: Usually held on a

Friday

morning in March…TBA
Chancy and Bruce Parent Workshop:

Usually held in the evening one or two weeks after the testing…TBA



If you would like more information, please call the school office at: 310-371-3531 or email: School Office
Information on Kindergarten Readiness Screenings:
Chancy and Bruce Educational Resources, Inc. will be on campus to conduct the screenings in March (date TBA). Please contact the school office to schedule an appointment. The cost is $50/student. Parents will receive a full report of the student's results as well as attendance at the Parent Workshop conducted by Chancy and Bruce (to explain the report, categories, and to offer suggestions for preparation through the summer, if necessary). The Parent Workshop will be a week or two after the scheduled testing at 7:00 PM, hosted by Ascension Lutheran in our Parish Hall or kindergarten classroom. Students who apply for kindergarten after the March testing date will need to contact the school office to schedule a testing appointment.
If you are unable to attend one of our Kindergarten Roundup events, you still have another option! Families are invited to come for a tour of the kindergarten class to learn more. A school representative will answer parent questions about kindergarten readiness, assessments, age requirements, and student life. You'll learn everything you need to know about attending kindergarten at Ascension Lutheran School in Torrance! Please contact the school office at 310.371.3531 or send an email to School Office to schedule a visit. We look forward to hearing from you.
Blessings to you and your family from Ascension Lutheran.
For more information about Kindergarten Readiness, please visit the Chancy & Bruce Educational Resources, Inc. website www.chancyandbruce.com