ACCREDITATION
Ascension Lutheran School in Torrance is fully accredited by WASC (Western Association of Schools and Colleges) and NLSA (National Lutheran School Accreditation). Ascension Lutheran is a member of the Pacific Southwest District of the Lutheran Church-Missouri Synod (LCMS).
What is WASC?*
The Western Association of Schools and Colleges (WASC) is one of six regional accrediting associations in the United States. The Commission provides assistance to schools located in California, Hawaii, Guam, the Commonwealth of the Northern Marianas, American Samoa, the Federated States of Micronesia, the Republic of the Marshall Islands, and East Asia.
The Accrediting Commission for Schools is composed of twenty-six representatives from educational organizations appointed as follows:
California
California Association of California School Administrators
California School Boards Association
California Teachers Association
California Federation of Teachers
California State Department of Education
Western Catholic Educational Association
Pacific Union Conference of Seventh-Day Adventists
California Association of Independent Schools
California Congress of Parents and Teachers
California Association of Private School Organizations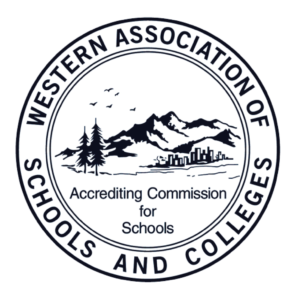 WASC Mission
The mission of the Commission is to foster excellence in elementary, secondary, adult and postsecondary education by encourageing school improvement through a process of continuing evaluation and to recognize, by accreditation, schools that meet an acceptable level of quality, in accordance with established criteria.
Full Accreditation Process
Each institution is evaluated on the basis of the WASC criteria and the appropriateness of the school's stated purpose, schoolwide student goals and the degree to which it accomplishes these.
The full accreditation process has three stages: the self-study, the visit, and the follow-up. A school's philosophy and the WASC criteria serve as the underlying bases for these stages.
*The above data was excerpted from the official WASC website. Please visit http://www.wascweb.org/ for more information about the accreditation process.
What is National Lutheran School Accreditation? **
National Lutheran School Accreditation (NLSA) is a process of self-evaluation followed by a visit of objective observers designed to help Lutheran schools improve the quality of their programs. The process is completely voluntary and available for every school operated by a single congregation, by an association of congregations, or by a Recognized Service Organization of the Lutheran Church—Missouri Synod or the Lutheran Church—Canada. NLSA is a rigorous national accrediting process designed to evaluate schools based on their unique purpose as Lutheran schools. It helps schools evaluate not only the quality of the academics and programs, but also most importantly the spiritual dimension of the school.
**The above date was excerpted from the official LCMS website regarding NLSA.