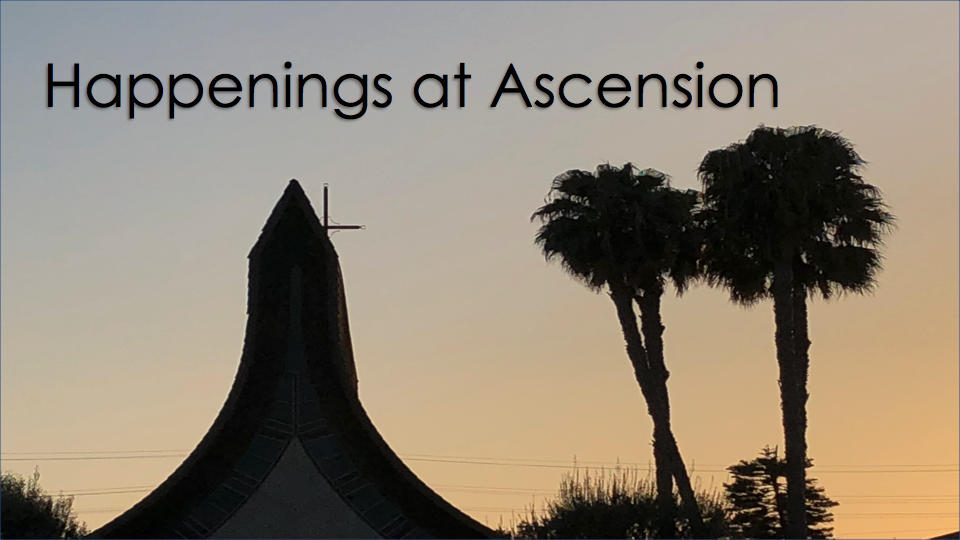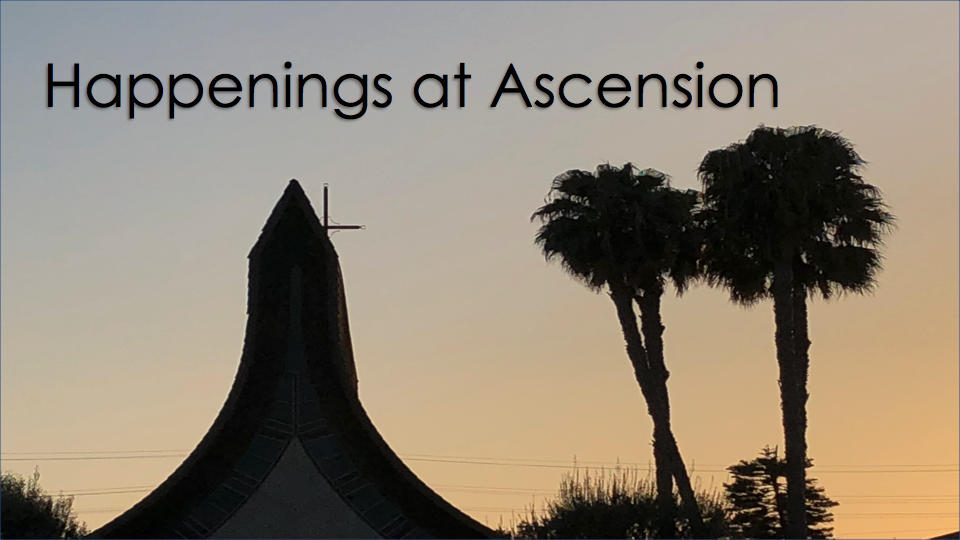 TUESDAY TELEGRAM
www.ascensiontorrance.org
"Journey in Christ" Proverbs 3:5-6
Ascension Lutheran School January 29, 2019 Paul Brege, Principal
LOOKING AHEAD
January 27 through February 2-NLSW
Scholastic Book Fair
30 & 31-Parent Teacher Conferences
31 & Feb. 1-School dismisses at noon/SAC open
February 1-Grandparents & VIP Day
5-Gearing Up for Kindergarten 6:00 PM
6-Buddy Chapel
8-School dismisses at 11:30AM/SAC open
Spelling Bee 12:00
10-Mrs. Scott's birthday
11-School closed~Teacher Inservice Day/SAC open
18-President's Day Observed No school/No SAC
19-Pastor Abram's birthday
Yankee Candle fund raiser begins
20-Dinner Night Out
Grandparents/VIP Day
National Lutheran Schools week is almost here! We will be serving Chick Fil A for Grandparents/VIP lunch. Please see the attached flyer and turn it in along with a payment by Monday, January 28th.
~~~~~~~~~~~
Grandparent and VIP Guest Schedule
8:15-9:30 – Grandparents & VIP's arrive/ light breakfast in Parish Hall
9:30 – Guests invited into classrooms for games & Discussion
10:30 – Dismiss to chapel
10:40 – Chapel in the Sanctuary
11:15 – Lunch (pre-ordered Chick-fil-a)
12:00 noon –Book Fair in Conference Room/ Dismissal of Guests & Students
Lutheran Information Class
Come hear what Lutherans believe!
Saturday, February 2, 2019
10:00am – 1:00pm
A light lunch will be provided
Hope to see you there!
⦁ We need volunteers to help us run the Scholastic Book Fair. Please call the school office for more info!
⦁ Volunteers needed the morning of Grandparents Day to help us pass out the lunches to the classrooms. Please call the school office if you can help!
⦁ The spelling bee is February 8th. We are in need of volunteers. Please contact the school office or Mr. Rouillard if you can help.
⦁
National Lutheran Schools Week Activities
Tuesday: Journey in the World – Wear items that represent being a tourist.
Wednesday: Journey through Life – Wear things that show what profession you want to be.
Thursday: Journey into the Future – Wear futuristic clothes
Friday: Journey in Christ – Christian wear. (VBS shirts, summer programs, school musicals)
IN-SERVICE/PRESIDENT'S DAY
School is closed on President's Day, Monday, February 11th for Teachers In-service meeting. There is a mandatory sign-up sheet in the SAC room that needs to be completed if you are planning for your child to attend.
GEARING UP FOR KINDERGARTEN
2019-2020
If you have or know anyone who is interested in next year's kindergarten program, please come to the meeting on Tuesday, February 5th at 6:00PM. Mrs. Hopkins will be talking to prospective parents about kindergarten life in her classroom.
CHANCY AND BRUCE KINDERGARTEN SCREENING
March 15th 9:00AM to 11:30AM
Parents of students who will be 5 by September 1st and would like to enroll their child in next year's kindergarten class should contact the school office to schedule a testing time.
REGISTRATION FOR THE
2019-2020 SCHOOL YEAR
Registration for the 2019-2020 school year will begin February 1st. The re-enrollment forms will be sent home soon. Be sure to return the completed form along with payment to the school office. Read the letter to see how you can receive a $25 discount. Open enrollment for new families will begin March 1st.
Ascension Boys' Basketball Schedule
Practices are 3:30 to 4:30
Games begin at 3:30
1/29/19 vs. Rolling Hills Prep HOME
1/31/19 No Practice (Minimum Day)
2/5/19 vs. Riviera Hall HOME
2/7/19 Practice HOME
2/12/19 vs. First Lutheran AWAY
2/14/19 Practice HOME
2/19/19 vs. Pacific Lutheran AWAY
2/21/19 Practice HOME
2/26/18 Tournament TBD
2/28/19 Tournament TBD
We will need drivers for the away games. *Game Refreshments (Drink & Snack) to be provided by parents. Visit mskramer.com to sign-up
SCRIP NEWS!
SCRIP CONTEST
A new contest has begun! For every $300 of scrip purchased your child can earn one free dress day through March 31st. Every scrip purchase automatically enrolls you in the Family Scrip Club where you can earn money towards tuition. Contact the school office to find out more information.
Women's Club of Torrance
Student Art Contest
Are you a good artist?
Do you like to paint or draw?

The Women's Club of Torrance is hosting their annual art contest for students Kindergarten -8th grade. If you are interested in submitting a piece to the art competition, here is what you do.
⦁ Make your creation or use one you made this school year 2018-2019.
⦁ Pick up an entry form from the school office and have your parents complete and sign it.
⦁ Bring your artwork along with the completed, signed entry form to Mrs. Hopkins by Wednesday, Feb. 28th.
Top place finishers in the Torrance district will advance to a state competition level automatically.
There are also prizes that will be awarded to top place finishers.
No limits to the art medium that you use, oils, watercolors, pencil etc. are all acceptable.
One entry per person
Any questions please email Mrs. Hopkins at:
kdg@ascensiontorrance.org
---